Cosmetic dentistry can have you looking youthful again by restoring your whiter, brighter smile.
Let Cosmetic Dentistry Rejuvenate Your Appearance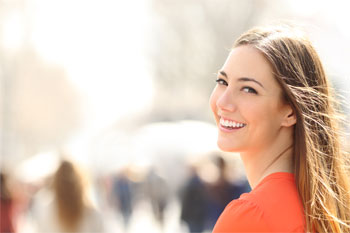 As you age, so do your teeth. The foods we eat and the liquids we drink can leave their marks on our teeth, depositing stains and leaving teeth discolored. Smoking discolors teeth extremely quickly, and leaves teeth yellow and brown.
Your natural teeth have outer layers of strong, white enamel, and inner layers of yellow dentin. With age, our enamel thins, revealing more and more of the yellow dentin layer. Whether we intend to or not, when our teeth are discolored, we're adding years to our age. Natural teeth also wear down with age. Shorter teeth can look ground down and imply years of use.
Maybe you've wanted to change your smile for a while, or maybe there's a special occasion on your calendar. Class reunions, weddings and graduations can be reasons for sprucing up your smile. Even first dates and job interviews can make you want to look your best.
Cosmetic dentistry sarasota can have you looking youthful again by restoring your whiter, brighter smile. Perhaps professional whitening can complete your treatment. Composite resin bonding or dental veneers are ways to even the shape of your teeth, possibly even extending them to be longer. Dental implants can take the place of missing teeth. Crooked and misaligned teeth may be corrected through orthodontia to make your smile red-carpet ready.
Cosmetic Dentistry Improves Smiles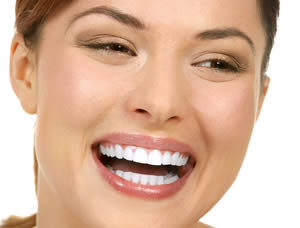 Everyone wants a nice smile. A great set of teeth and overall appearance of your mouth positively affects all aspects of your life. Self-confidence and attitude both improve along with your smile. Instead of hiding your mouth and covering it up when you smile or laugh, cosmetic dentistry offers ways to improve it so that you will be smiling every chance you get.
There are a wide variety of procedures and treatments provided by cosmetic dentists. The main goal is to enhance the appearance of your smile, which can involve things such as teeth whitening, gum alterations, hiding imperfections, and teeth straightening.
One common problem that many people are unhappy with about their smiles is staining or discoloration of their teeth. It can result from smoking, eating foods that stain, drinking beverages like coffee and cola, and other issues. Luckily there are various whitening methods, with the ones available in professional dental offices offering the most dramatic and fastest results.
Another popular cosmetic dental treatment is veneers, which are porcelain covers that permanently attach to your teeth to hide imperfections. They are used for things like closing gaps, hiding stains, and altering tooth length.
Cosmetic dentists can perform gum contouring to change the appearance of your gums along your teeth. Sometimes gums cover too much or too little of your teeth, so your gums can be lifted or lowered to improve your smile's appearance.
Dental implants have grown in popularity, providing permanent and effective tooth replacement. People lose teeth for a number of reasons, but implants give people back their smiles. These titanium rods are attached directly into your jaw so that your bone fuses with the implant, and then an artificial tooth or crown is place on top to complete the natural look of implants.
Orthodontic treatment may also be provided by cosmetic dentists to straighten teeth and correct alignment problems. Newer technology such as clear braces and Invisalign retainers offer less noticeable orthodontic treatment methods.
No matter what your goals might be for your smile, it's likely that a cosmetic dentist can help you achieve them.
Talk to Sarasota cosmetic dentist Dr. Back to see what can be done to your smile to make you look more youthful. You'll look relaxed and refreshed, and people will notice. When you know you look good, you'll project your best, most confident self, allowing you to smile beautifully for years to come.
Cosmetic Dentistry: Popular Procedures and Treatments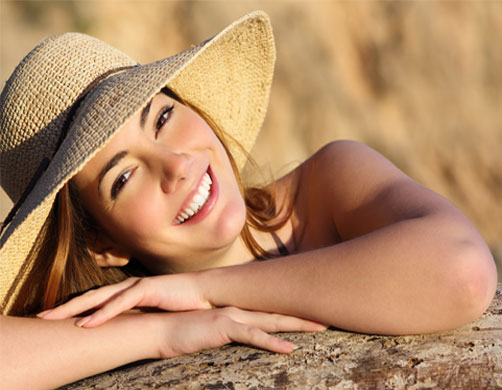 Cosmetic dentistry Sarasota refers to any dental work that improves the appearance of your teeth, gums, or bite. Very few people have naturally perfect teeth, but almost anyone can attain a dazzling smile with the help of a cosmetic dentist. Cosmetic dental treatments and procedures are easier and more popular than ever, allowing patients to restore and improve the appearance of their smiles. Some of the most popular options in cosmetic dentistry include:
The placement of porcelain veneers to conceal cracks, chips, gaps, and discolored teeth.
Composite bonding which utilizes tooth-colored resin to repair and conceal discolored or chipped teeth.
Inlays or onlays, which restore decayed teeth with tooth-colored fillings to create a more natural look.
Gum contouring to reshape the gum line and correct a gummy or uneven smile.
Tooth reshaping which involves modifying or removing enamel to reshape the tooth.
Professional teeth whitening which can brighten darkened or stained teeth up to ten shades in as little as one visit.
Dental implants which can replace missing teeth in the most natural looking and feeling way possible.
Clear orthodontia like Invisalign to straighten overlapping, gapped or unevenly spaced teeth comfortably, and are virtually without detection.
Advances in dental technology have provided cosmetic dentists with long-lasting, natural-looking materials that create the most aesthetically appealing result possible. Porcelain and composite material can be matched to the look and feel of your natural teeth, resulting in a beautiful smile. Consult with a qualified cosmetic dentist to learn more about what cosmetic dental treatments and procedures are available to help you achieve a more perfect new smile.
Recovering From a Complicated Cosmetic Dentistry Procedure
You will need to prepare in advance of your procedure, especially regarding scheduling the treatment itself. Late week appointments are good for complex cosmetic treatments, as they allow you to recover over a weekend while missing a minimum of work.
Your gums and teeth may be sore, causing you to restrict your diet while your mouth heals. Prepare a selection of soft foods you can eat safely and comfortably. Foods like pudding, tepid soup, yogurt, applesauce, gelatin, or cottage cheese are all appropriate choices following a complex cosmetic dentistry procedure.
Do not eat very hot foods, especially if your mouth is still numb. You could seriously burn your mouth and not realize it until later, when the anesthesia lessens. Do not eat foods that require chewing, and do not consume alcohol while you are taking any painkillers. Do not drive while you are recovering and taking medication. Do not smoke, as this can slow the healing process.
Take an over-the-counter painkiller that contains anti-inflammatory properties, such as ibuprofen. Apply ice packs if necessary to your cheeks and elevate your head while you rest. Wearing loose-fitting clothing to your appointment allows you to be comfortable both in the cosmetic dental office and at home.
Have some movies or books on hand to pass the time while you recover. Don't plan to send any important emails or to conduct business on the phone until you ascertain how the pain medicines affect you. All patients react differently to medications and should take care.
Talk to your cosmetic dentist in Sarasota today to ensure a successful and comfortable recovery from your cosmetic dentistry procedure.
Read More about Cosmetic Dentistry Sarasota